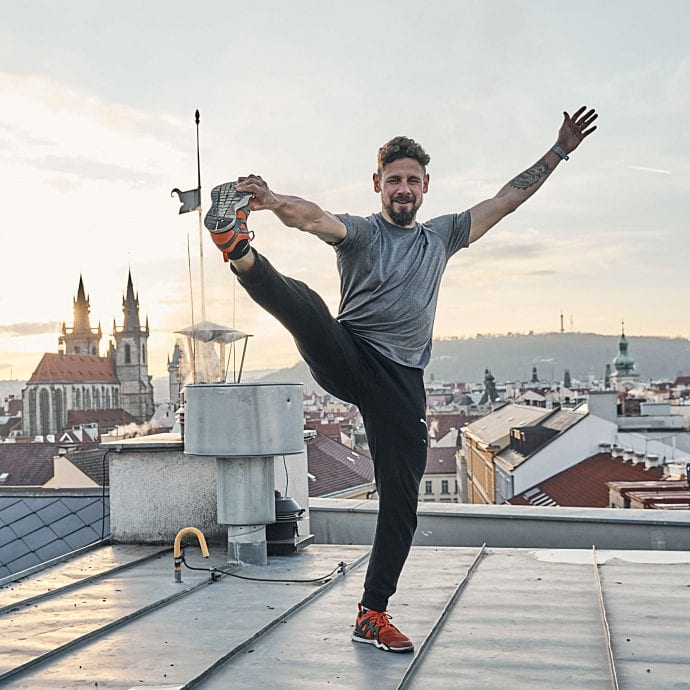 Lukas Zaspal is a two-time Guinness world record holder who has trained with Olympic athletes and competed at a national level in boxing.
His tailored programs have helped hundreds of clients reach their goals whatever their age, objectives or level of fitness.
Whether offering one-on-one or group workout sessions from our scenic rooftop gym or enthusiastically leading a morning run through the streets of Prague, Lukas's expert skills and services are available to guests of Hotel Josef, many of whom continue his customized routines upon returning home.
Groups booking a conference with us will also receive a complimentary stretching session with Lukas as part of the package, designed to boost energy levels as well as mental and physical stamina after hours of sitting in meetings. Rejuvenate your attendees with help from Lukas's basic stretching and posture exercises.
"Sitting still and doing nothing is really the hardest thing for me."
Hotel Josef's resident fitness pro Lukas Zaspal shares the stories that have defined his life, career and wellness philosophy. Hotel Josef's Creative Director Martina Hončíková recently chatted with Lukas about his early life and career and what's next for one of the Czech Republic's top trainers:





/





/
CLASSIC 121
Stands for 1 to 1, a private lesson between coach and athlete. After an analysis, Lukas will work with you to develop a customized training plan that works primarily with your own body weight. In addition, weights, kettle bells and other tools can be used to achieve your fitness goals. Ensure good habits built to last: Continue the program that you developed in Prague with Lukas when you return home.
3D HIGH INTENSITY
Need to squeeze a workout into a busy schedule? This program lets you stay active even when crunched for time. After an initial analysis, which also acts as a warm-up, you will be guided through exercises using just your own body weight and small dumbbells. Work on stamina, endurance and mobility, and continue practicing the exercises developed with Lukas when training at home.
BOXING TRAINING
Lukas is a boxing professional at a national level. With great competence and experience he can teach you the sport while demonstrating how to improve your condition and fitness levels with boxing. His unique combination of boxing and martial arts differs from conventional fit-box classes. Focus on a moving target and build stamina and confidence.
BODY BALANCE SESSION
Are you travel weary, burnt out from meetings or recovering from the previous day's intense training session? Restore your energy: Lukas will show you how to move freely and safely using effective stretching and mobility exercises. Finish the session with guided stretching and massage to help you relax for the remainder of the day.
Part I, Stretching
The first part of the workout is aimed at warming up your body, increasing blood flow, mobilising the joints and improving range of motion. Use this routine to warm up before your workout or as a stand-alone routine to improve mobility and core stability. When stretching, always stay with a slightly challenging range of motion which allows regular breathing. Shortness of breath can mean excessive range. 
Part II, Exercise
The second part of the workout is designed to challenge your stamina, strength and coordination – and give you a good sweat. When done with high intensity and the appropriate resistance your whole body should function in different planes of motion. In this 4-minute cycle, four different exercises are performed in 1-minute intervals. Repeat the cycle up to five times for a great 20-minutes of conditioning. 
These routines won't necessarily suit all. Consider your limitations and health to prevent injury. Feel free to contact Lukas for recommendations which will fit your specific needs.


Private Running Session
Learn to improve your running technique and discover how to move beyond your limits and improve. A run with Lukas through Prague combines sports activity with a city tour, letting you experience Prague from a different perspective.
Priced by duration and intensity
WHAT - WHEN - WHERE IN PRAGUE