THE BEST EVENTS IN PRAGUE
Hotel Josef's events selections are carefully curated by our Concierge whose insider knowledge will help you design the perfect gallery stroll or special night out. The cultural scene of the Czech capital is coming back to its' life and we are here bringing you our tips for upcoming year 2022. Feel free to take a look on our Josef Loves Blog which reveals insider tips – from the best baristas to the hottest tables in town – exclusively for our guests.
Until 7. January 2024
Infamous Beauty
The comprehensive series Infamous, created in 2019, is presented in the mezzanine. Andres Serrano has been dealing with the themes of racial intolerance and inequality for a long time, for the first time significantly in the early 1990s in his series Nomads and Clan (both from 1990).

Until 22. December 2023
1956-1989: Architecture for All
The exhibition focuses on architecture and lifestyle between 1956 and 1989. Lifestyle is a phenomenon in which everyday experiences and experiences intersect with architecture and design as creative disciplines. Against the backdrop of modernity, characterized by the transition to a post-industrial society, the growth of the tertiary sector, services, and significant advances in (tele)communication and audiovisual media, the specific Czech situation appears as a special case study with different aspects of political developments during the Cold War.

Until 31. December 2023
VR film Darkening
Take a dive into the first Czech VR film Darkening in a unique installation specially designed for the NaFilM museum. The screening room is filled with 12 km of rope to enhance your unconventional film experience. Come to the only place in Prague where you can put on a headset and watch the first Czech VR film premiered at the Venice International Film Festival.

Until 28. November 2023
Magic Phantom – Best Of Black Light Theatre
Experience an extraordinary theatrical show in Prague and watch the "Phantom" come to life in dance and pantomime. See the best scenes of black light theater by the Hilt company, and watch contemporary stage effects.

Until 11. February 2024
Fotograf Festival #13
Digital reality and ubiquitous technologies put our attention under constant visual pressure. They compel us to react, to have emotional responses. They seek to gain as much of our attention as possible. This year's Fotograf Festival, aptly titled HYPERTENSION23, contemplates this phenomenon in three separate exhibitions. The display will start off with a group exhibition under the same name.

Until 24. January 2024
DEKKADANCERS
Turn on. Turn off.
Turn on, make mistakes, save, turn off.
Turn on, develop, solve, make mistakes, save, turn off.
Turn on. Develop. Address people connections. Humanity is defined by the question of love;
People kill, they hate, they want to love.
Define options; live, love, think, make mistakes, fail. Be better than human existence. Save.
Integrate. Go beyond. Live.

2. December 2023
Prague Christmas Markets
There is nothing much more lightning up the city than pretty much famous Christmas Markets. "Winter wonderland" set up by markets lights and smell of mulled wine along with sweet- smelling trdnelnik, is truly bringing locals and tourists into the memorable atmosphere of Christmas.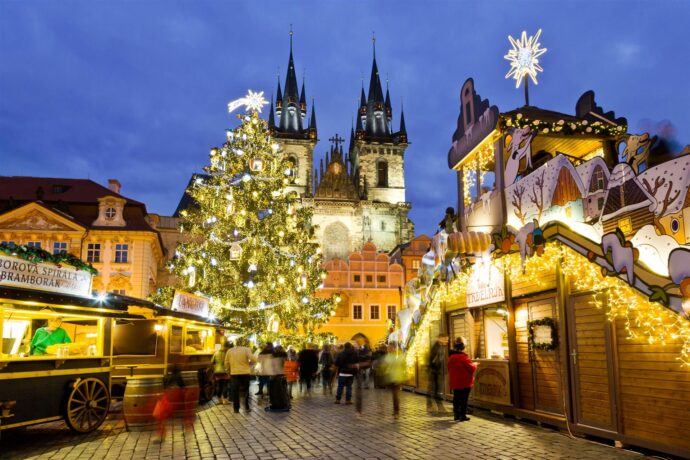 12. December 2023
FLOEX (Tomáš Dvořák)
Kostel Nejsvětějšího Srdce Páně
Is a clarinettist, composer and multimedia artist from Prague. The musical nickname comes originally from the combination of the different worlds 'float', 'flex', 'experiment'.

19. January 2024
Bella Italia!
We will hear the Saltarello from the Italian Symphony by the German composer Felix Mendelssohn-Bartholdy, who was enchanted by his two-year sojourn around Italy. Naturally, we will not omit music from operas by the native Italians Gioacchino Rossini and Giuseppe Verdi or the visionary ending of Ottorino Respighi's Pines of Rome.